LATEST NEWS AND INFORMATION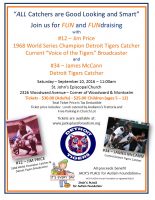 Upcoming event: ALL Catchers are Good Looking and Smart
Join JACK'S PLACE For Autism Foundation on Saturday, September 10 at 11:00 a.m. at St. John's Episcopal Church (2326 Woodward Ave., Detroit, MI, 48201) for a day where we are putting the "fun" in "fundraising." This day of fun includes lunch from Andiamo's Trattoria, raffle drawing for tickets to future Tigers games and photo opportunities with 1968 World Series Champion Detroit Tigers Catcher and radio voice of the Tigers Jim Price, as well as current Detroit Tigers Catcher James McCann. Tickets are $30 for adults and $25 for children ages 5-12. The ticket also includes free parking at the Church lot. Total ticket price is tax deductible.
Before registering, please read the following paragraph for important information regarding payment.
IMPORTANT NOTE: Currently, we are unable to accept registrations through Authorize.net. Because of this, we have provided you the opportunity to purchase tickets and register for this event and future events through PayPal until further notice. Payments will be made out to Creative Designs, which will go directly to JACK'S PLACE For Autism Foundation.
---
JACK'S PLACE in the Community: 2016 Detroit Hydrofest
Grab your family and head down to the 2016 Spirit of
Detroit Hydrofest 
this weekend!
JACK'S PLACE For Autism Foundation will be there on Friday from 1 p.m. – 5 p.m. and Saturday and Sunday from 8:30 a.m. to 5:00 p.m. Entrance to the Hydrofest on Friday is FREE. We will have information made available at our booth for everyone, as well as a raffle and Baby Augie plush dolls for sale.
For tickets and information, visit www.detroitboatraces.com or call them at (313) 329-8047. We hope to see you there!
---

Website update
JACK'S PLACE For Autism Foundation is in the process of updating the aesthetics and presentation of our website. These changes are being made with the intent of providing you a website that's easier to read and navigate, as well as presenting information that may be of importance to you. We have updated the aesthetics of the website, but there is plenty of work to be done. JACK'S PLACE For Autism Foundation will continue updating the website, as well as keeping you, the visitor informed of the changes we've made.