LATEST NEWS AND INFORMATION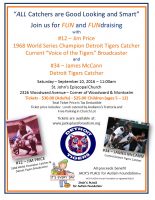 Upcoming event: ALL Catchers are Good Looking and Smart
Join JACK'S PLACE For Autism Foundation on Saturday, September 10 at 11:00 a.m. at St. John's Episcopal Church (2326 Woodward Ave., Detroit, MI, 48201) for a day where we are putting the "fun" in "fundraising." This day of fun includes lunch from Andiamo's Trattoria, raffle drawing for tickets to future Tigers games, autographs and photo opportunities with 1968 World Series Champion Detroit Tigers Catcher and radio voice of the Tigers Jim Price, as well as current Detroit Tigers Catcher James McCann. Tickets are $30 for adults and $25 for children ages 5-12. The ticket also includes free parking at the Church lot. Total ticket price is tax deductible. Tickets must be purchased before the event and cannot be purchased on site of the event.
Before registering, please read the following paragraph for important information regarding payment.
IMPORTANT NOTE: Currently, we are unable to accept registrations through Authorize.net. Because of this, we have provided you the opportunity to purchase tickets and register for this event and future events through PayPal until further notice. Payments will be made out to Creative Designs, which will go directly to JACK'S PLACE For Autism Foundation.
---

Website update (August 30, 2016)
JACK'S PLACE For Autism Foundation is still in the process of updating the aesthetics and presentation of our website. As of August 30, 2016, we have made an update to the photos page. In this update, we have added event photos from previous events this year and before. In addition to these new photos comes an update that improves your viewing capability of these photos. Now you may select to view specific albums without having to scroll through dozens of photos that appeared on the page from the start. To make viewing photos less of a hassle, we have made it so you can view photos as a slideshow. No pop-up windows, no page redirections. You are kept on the page and are able to click out of the slideshow to return to the photos page.
---

Check us out on Instagram!
JACK'S PLACE For Autism Foundation is getting back to sharing photos on Instagram! We will be sharing with our followers event photos, information on upcoming events and more. If you have an Instagram account, be sure to give us a follow at @jacksplace4aut !