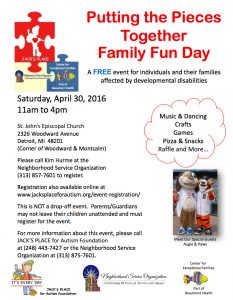 Putting the Pieces Together Family Fun Day

Please join us for a free event, full of fun for families and individuals affected by developmental disabilities. There will be music and dancing, crafts, games, pizza and snacks, and much more. To register, call Kim Hurme at the Neighborhood Service Organization (313) 875-7601 or go to the Upcoming Events page on this site. This is NOT a drop-off event. Parents and/or guardians must be registered and not leave their children unattended.
When:  Saturday, April 30th, 2016; 11:00 a.m. – 4:00 p.m.
Where:  St. John's Episcopal Church
2326 Woodward Ave.
Detroit, MI 48201
THANK YOU
We at JACK'S PLACE for Autism Foundation would like to thank everyone who volunteered and participated in the 4th annual JACK'S JOCKS for JACK'S PLACE. We enjoyed putting this event together for you, the community and we are thankful to put events like this for the community.