Yesterday, the Detroit Red Wings Foundation invited fans of the hockey team to come paint the ice at Joe Louis Arena. For many, this was the last chance to get inside the hockey haven we've called home for 38 years. For me, this last chance was awesome and a bit sad.
The Red Wings Foundation allowed people to pay $20 to step onto the ice and – with provided paintbrushes and paint – write a personal message. Going in, I did not think of what I wanted to write. So, while I was waiting to get on the ice, I had time to think about my experience at the arena, hoping I would come up with the perfect message to write.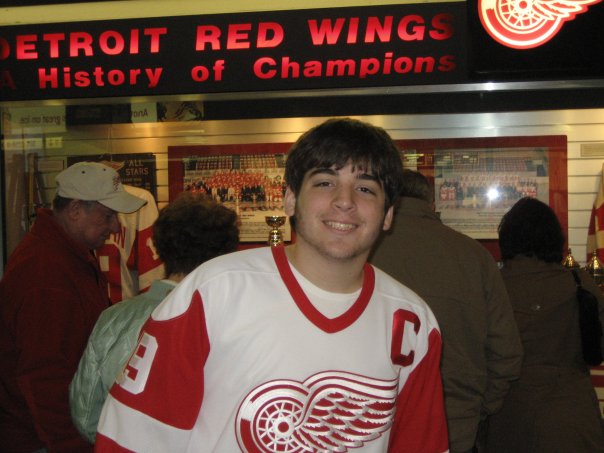 Every time I stepped into the arena, I felt like I entered a different world. On one hand, it was an antiquated world. With many arenas in the National Hockey League and sports in general having state of the art features, Joe Louis Arena stood out. No cup holders, very narrow seats, outdated screens and just a very dank venue made Joe Louis Arena feel and look old. With that said, it was great to me that the arena stayed antiquated. Yes, new arenas are nice, but Joe Louis Arena as the one that stood out because of how old school it was compared to other arenas in the area and around the country.
On the other hand, it was like entering the world of Wonka. Any ticket or printed piece of paper with my ticket information was like the golden ticket and Joe Louis Arena was Wonka Factory. It's a place where I, along with many others, wanted to be. It was a venue full of history and the Red Wings would let you know about it.
When I entered the Joe, I knew no matter what, I was going to have a good day or evening. The crowd, teams (or performers, if we are talking about other events than hockey) and staff all pitched in to create the euphoric ambiance that was so intoxicating that you just wanted to keep coming back to get more of that experience.
When we were allowed to walk on the ice to find a spot and start painting, I appreciated every step I took on the ice. To me, walking on the ice was like stepping on sacred ground. This was where my sports heroes skated for my entire life and to have been able to just step on the ice where their skate blades once touched was worth the $20 alone.
Walking toward my spot, I thought about all the experiences I had here. There were many games I want to with my family and friends. The Joe served as a place where I could establish new relationships and strengthen existing ones. Coming to the Joe in late November to celebrate my father's birthday would become a family tradition growing up. There were plenty of games my girlfriend and I went to, where she saw the true sports fan in me.
Many of the games I went to were great, like the game two win (5-1 final) over Colorado Avalanche in the Western Conference Semifinals of the 2008 Stanley Cup Playoffs or whenever the Red Wings beat the Blackhawks. In contrast, there were some heartbreaks as well, like the game four overtime loss against the Boston Bruins in the first round of the 2014 Stanley Cup Playoffs and the overtime loss against the Tampa Bay Lightning in game four of the first round of the 2015 Stanley Cup Playoffs.
Wins brought me great joy and relief, whereas losses brought heartache and bitterness. Hockey became the first thing I truly had a passion for where I could express my emotions like anyone else in this world without feeling weird when expressing myself. Whether it was a good or heartbreaking experience at the Joe, I was just glad to have been there. Joe Louis Arena was a place I could go to escape the stress of school, work and many other things in life.
There are plenty of things I'll remember, like the playoff game in 2008 I went to with close friends of mine, having a father and son night out watching the Wings face the Blackhawks, eating an entire pizza by myself (because sometimes I make ill-advised decisions), or even the non-hockey events I went to, like WWE shows and concerts. These events that happened inside the Joe gave me incredible memories and in a way, have shaped me into the person that I am today.
So what did I wind up writing on the ice? I kept it short and simple.
I wrote, "thank you for everything."