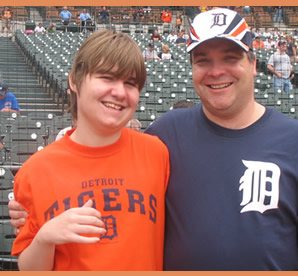 WHAT IS AUTISM?
Autism Spectrum Disorder (ASD) is a neurological disorder of the brain that typically appears before the age of three. It is referred to as a spectrum disorder because it comes in many different forms and severities. People with ASD have difficulty communicating with others and relating to the outside world. They may exhibit repeated body movements (hand flapping, rocking), have unusual responses to both people and objects, and resist change in daily routine. Many also experience unusual sensitivities to light, color, sound, touch, taste and smell.
IS IT COMMON?
Yes, and growing. Once rarely seen by physicians, ASD now occurs at a rate of 1 in every 68 births
WHO IS AFFECTED BY ASD?
ASD is four times more prevalent in boys than girls, occurring at the rate of 1 in 42. However, ASD knows no racial, ethnic or social boundaries. There is no correlation between family income, lifestyle or education and the incidence of ASD.
HOW DOES IT AFFECT FAMILIES?
In many cases, it is devastating. After diagnosis, most families are left to fend for themselves, lost in a myriad of theories and treatments, where even finding a knowledgeable physician can be challenging.
WHAT IS JACK'S PLACE?
JACK'S PLACE is a non-profit organization created to help families in Metro Detroit cope with ASD. We do not advocate for any particular treatment option or therapy. Rather, we act as a single source to provide families with needed support services and referrals. We constantly seek ways to raise ASD awareness.
Since our founding in 2002, we have served more than 9,500 individuals and families by providing:
A clearinghouse of information to guide and support individuals and families living with ASD
Baseball & Soccer programs
Arts & Theater programs
Swimming lessons
Parent workshops
Free family counseling
Family day activities
Summer camps
Scholarships
Service projects, and much more
WHAT CAN JACK'S PLACE DO FOR ME?
Our services include:
Referrals for respite care, medical and educational providers, and employment opportunities
One to one parent and guardian supports, early referral programs, Individual Education Plans (IEP) and Person Centered Plan (PCP) assistance, advocacy support
Scholarships and grants that include swim instruction, baseball, basketball and summer camps, dance, art and theatre
Year-long awareness events, such as Autism Awareness Day at Comerica Park, JACK'S JOCKS, Family Fun Day Activities and resource events
If you are in need of assistance, please call our office at (248) 443-7427.
WHAT CAN I DO FOR JACK'S PLACE?
Make a donation
Sponsor an event
Volunteer
Join our Email list to obtain information regarding upcoming events
Participate in an event